In Sugar Industry, though the process is continuous and the crushing rate is said to be constant, there is always need of adjusting / changing the doses of chemicals and application of steam.

If we summaries and write down the main causes of this are ...
Instantaneous variations in the crushing rate.
Changes in steam pressures, chemical concentrations.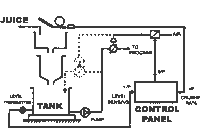 The first two hurdles can be very easily eliminated if we control the juice flow, after the weighment.

The JUICE FLOW CONTROL system will measure the actual flow of juice and control it to the set value. This set value can be decided depending upon the crushing rate. The instantaneous changes in the crushing reflect on the average level of the receiving tank of the weighing scale.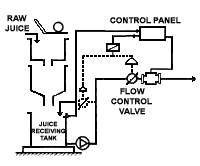 If these ups & downs are crossing the limits there can be a provision of alarming at the mill. The most dangerous situation of overflowing of the receiving tank can be avoided by overriding control automatically.

However such occurrences shall vanish the main purpose of the system and hence such occurrences should be avoided by inviting the attention of the mill operators.

At many places JUICE FLOW STABILIZATION system is used, which removes only the disturbance caused by Batch weighing of juice. The system measures the change in stock volume of the receiving tank, at every dump, by means of measuring the level in receiving tank.

This change is the measure of instantaneous crushing variation. The control valve is automatically adjusted to this change. In this system there is no possibility of overflowing or emptying the receiving tank

The advantages & disadvantages can be compared as under
| | |
| --- | --- |
| Juice Flow Control | Juice Flow Stabilization |
| On line Digital flow measurement & indication. | No flow measurement. |
| Constant flow to the process | Stabilized flow to process. |
| All variations in juice flow are removed. | Flow variations only due to Batch weighment are removed. |
| No change in flow due to instantaneous crushing variations. | Juice flow varies with change in crushing rate. |
| Change in flow rate setting is required for various crushing rates. | Self-setting. |
| System is by-passed for a moment in case of sudden change in crushing rate. | System automatically sets to crushing rate. |
Note :-
WE HAVE TO CHOOSE THE SYSTEM AS PER YOUR SPECIFIC REQUIREMENT.